Privacy Policy
As health care provider I must collect a certain amount of personal information from you in order to safely treat you. It is extremely important that this information be collected responsibly and that it only be disclosed to other individuals under appropriate circumstances. This document details your rights and how I protect your personal information.
What is personal information?
Personal information is information about identifiable individuals. Personal information includes information that relates to:

an individual's personal characteristics (e.g., gender, age, income, home address or telephone number, ethnic background, family status);
health (e.g., health history, health conditions, health services received by them);
activities and views (e.g., opinions expressed by an individual, an opinion or evaluation of an individual). Personal information is different from business information (e.g., an individual's business address and telephone number). This is not protected by privacy legislation.
Who can see your health information?
When you request health care from me, it is assumed that I have your permission to collect, use and share that information with your other health care providers. This is limited only to those providers who you have actually seen for health care; other providers are not entitled to your information, except in the cases where for audit or accreditation reasons, to address safety for the client or other persons, or required by law.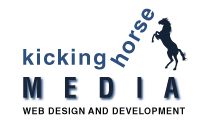 Thanks for visiting Kicking Horse Media Web Design & Development Inc. Website.
http://kickinghorsemedia.ca
Call us at 613-257-5145 for a free consultation.
Scan the QR code below to link to the website